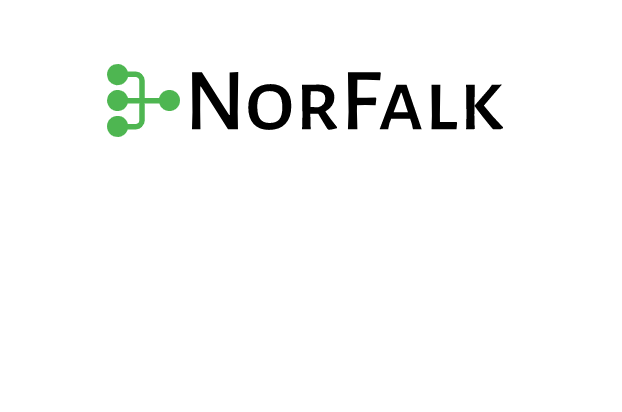 NorFalk is committed to innovating the textile industry
Three students from Aarhus University will develop a sustainable method to dye textile. Earlier this year, their company NorFalk received a SDG Micro Grant from the Tuborg Foundation and the Danish Foundation for Entrepreneurship.
Nicklas, Mark and Kasper are all studying a degree in civil engineering at Aahus University. Their business started from their desire to create a sustainable alternative to coloring processes in the textile industry. They are currently working on their master's thesis, in which they are wokring on the  they are working on developing and starting and a system for producing dye for textiles.
Starting NorFalk
The three engineering students have all chosen to have their scholarly major in chemistry. They each have new different areas of interest in chemistry and process engineering, however, common to them was wanting to create something new that they could define and decide themselves, while also being able to use their subjects in the project. "We are trained to think about sustainability and the climate in all of our projects and therefore interest in the textile industry quickly commenced. Here, our chemical and process engineering knowledge could create a product that could help give the textile industry the sustainability boost that is required."
Focusing on the SDGs
Norfalk are working with SDGs 9, 12 and 13. They point out that their education has had some impact on their sustainable project. This, they conclude, based on the fact that as a chemical engineer, one often works with sustainable optimization and sustainable development in his projects.
Specifically, Norfalk meets Goal 9: Industry, Innovation and Infrastructure and 12: Responsible consumption and production by developing a more sustainable production form of textile dyes, thus speeding up sustainable development in the textile industry. Due to the size of the textile industry, it also helps to combat some of the climate change this industry is responsible for, which meets Goal 13: Climate Action.
Effects of the Micro Grant
"Since we are not working under a larger funded research group, the World Microlight has been a great financial help for us." says Kasper.
Norfalk will use the financial support of the Tuborg Foundation and the Entrepreneurship Fund to purchase equipment and chemicals to develop their proof-of-concept. The POC must then form the basis of the company.
Industry interest
The three students have been met with great interest in their idea from professionals, and for them it means that the project has only become even more interesting to work with.
"After talking about our idea to people in the textile industry, we have only met interest in our sustainable textile dye. We hope that this interest in a more responsible dye will also be met by textile dyes around the world."

Ambitious goals have been set for the company. "Our goal is, in the longer term, to sell dye to textile dyes throughout the world, with a focus on making a climate effort in the textile industry. If everything goes as planned, we expect to go full-time on the project after graduating," says Kasper.
Apply for the Micro Grant
SDG Micro Grant originate from the Danish Foundation for Entrepreneurships existing scholarship programme, Micro Grant, where students with a good idea can apply for financial support. The SDG Micro Grants are awarded in collaboration with the Tuborg Foundation.

If you and your startup are working with the UN' SDGs, and are you interested in applying for a SDG Micro Grant, then you can read more here.