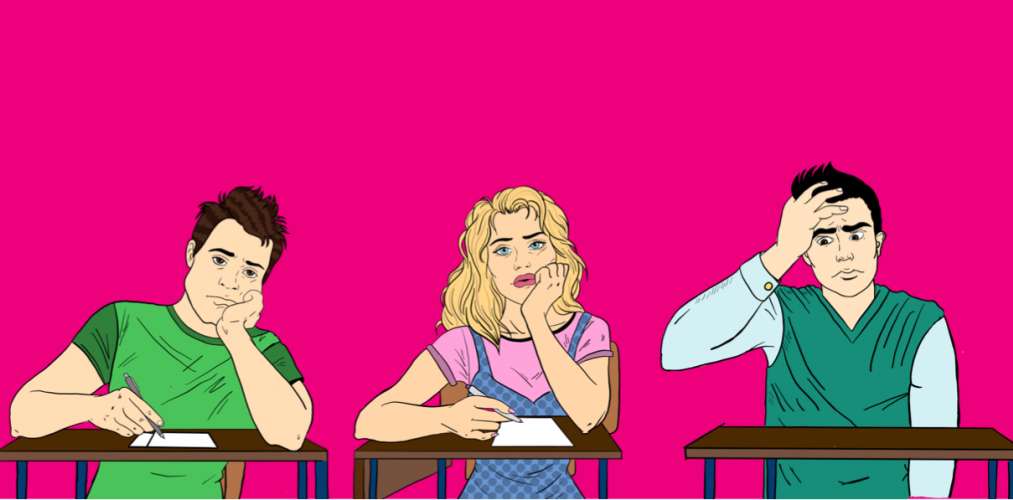 Cherry Pop wants to create quality sexual education for everyone
Five students at Copenhagen School of Design and Technology (KEA) have started a business, which aims to modernize sexual education in schools. It is as much as personal passion project as a business idea for the group.
It started as a project for a class with an entrepreneurship theme: find a theoretical idea related to the UN Sustainable Development Goals and develop it as a business idea. As the idea of Cherry Pop grew bigger, the five students decided to develop it into an actual business.
- We worked in depth on our business model and on pitching the idea, and when we won the regional championships in Entrepreneurship, we realized that other people liked it too, says Madeleine Malling Breen, one of the co-founders of Cherry Pop.
Shortly after, the students applied to have internships in their own business.
- When we started pitching our idea, we thought that this would be a good idea for someone to do, meaning someone else but us. But then we became proud of our idea as we got a lot of positive feedback, and we wanted to keep working on it ourselves, says Ása Valdimarsdóttir, co-founder of Cherry Pop.
Interning in your own business requires a lot of learning by doing, but the Cherry Pop founders do not mind this challenge.
- We do all the administrative and financial work ourselves, but when you work for your own business, even bookkeeping is kind of fun and interesting, says Madeleine Malling Breen. 
Cherry Pop is based at KEA´s startup lab, where other startups work as well. This was also where the founders learned about the funding opportunities through the micro grant.
- Right now, we are working on content creation and get our name out there before we go live. We are currently finishing the framework for the app and then we move on to coding and getting the app out in the testing schools, which we already have lined up, says Madeleine Malling Breen. 
"We want to do our part and contribute to society"
The idea of Cherry Pop sprung from Madeleine's mother, who is an elementary school teacher in Norway, where schools are currently changing the curriculum for sexual education.
- Sexual education is awkward and hard to talk about. Plus, we wanted to include every skin color and sexual orientation in our solution, says Madeleine Malling Breen.
The group talked about what they personally learned in school and what they did not learn. They also noticed that sexual education varies a lot between countries, where students are taught vastly different things.
- We started talking about using pop art and the term "popping your cherry" for losing your virginity, which is a bit provocative. In the beginning it was a fun idea, with a lot of brainstorming, says Ása Valdimarsdóttir.
The solution became a curriculum app and website for different grades, with graphic drawings showing topics related to sex and youth. The purpose is to make the content engaging and conversation-starting, but also to create a search engine, where students can learn more at home, without having to ask in class. 
- We did a survey among school students, where 0 per cent said they learned most about sex in school Most learned about it from their friends and watching porn. We would like to help change this, says Madeleine Malling Breen.  
The content for Cherry Pop is created by specialists in sexology, who teaches sexual education in schools and are focused on metal health of young people as well.
The Cherry Pop founders are optimistic about the market need for their product.
- In the Scandinavian countries people are highly focused on sexual education right now, also from a political point of view. Today there is not one source for teachers to build their curriculum around, and nothing that creates engagement, says Ása Valdimarsdóttir.
The class which became the starting point for Cherry Pop, was focused on the UN Sustainable Development Goals, a topic which is taught in many entrepreneurial classes in higher education today. And for Cherry Pop, working with gender equality and quality education has become the backbone of the business.
- Our business is close to our hearts, because we really do want good sexual education and to remove the taboos. I do not see why you should not focus on societal challenges in your business. It feels good to do our part and contribute, says Ása Valdimarsdóttir.
Besides Ása Valdimarsdóttir and Madeleine Malling Breen, Cherry Pop consists of Izabela Hetmanowska, Ludmila Zimermanova and Oddur Holm Haraldsson. 
 Cherry Pop received a sustainable development goals micro grant, with support from Tuborgfondet, in November 2020.